Concrete jungle: why brutalist architecture is back in style
06Oct16
From Washington DC to London, concrete edifices aren't to everyone's taste, but they're here to stay – and people have learned to love these sights.
Mies van der Rohe was born first, in 1886, in Aachen, Germany. Le Corbusier arrived the following year, and 250 miles to the south, in La Chaux-de-Fonds, Switzerland. Mies went on to become the godfather of the steel-and-glass international style; Corbu, enamored with the possibilities of concrete, essentially created brutalism. Which means that not only were the two architects great builders in their own right; they were also responsible for creating the greatest sibling rivalry in the history of architecture.
Le Corbusier's brutalism took an early lead, not least because of concrete's cost advantage: it is cheap and abundant, the second most consumed material in the world, after water. Brutalism also had the art-historical advantage of fitting easily into a centuries-long narrative. The monumental brutalist vaulting of the Washington Metro, for instance, is uncannily similar to that found in largest concrete dome in the world – the 2,000-year-old Pantheon, in Rome.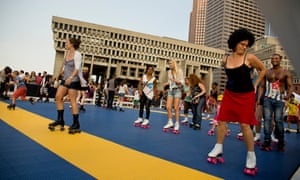 Yet by the 1960s, when both movements really hit their stride, it was the international style that was in the ascendant. Mies had given New York City the Seagram Building, "the millennium's most important building", according to Herbert Muschamp of the New York Times. Citizens of modern cities on every continent started looking up and seeing shimmering sheets of glass, as their formerly parochial towns were transformed into something resembling the Emerald City from The Wizard of Oz. A new international phenomenon emerged: the modern skyline, comprising buildings that aspired to float – effortlessly, impossibly – upwards, in a reverie of light and transparency. This, surely, was the golden future. The lucky few were part of it already, and everybody else wanted in.
Meanwhile, the 99% (although they didn't call themselves that at the time) found themselves raising families in suburban concrete housing estates that were direct descendants of Corbusier's Unité d'habitation, or housing unit, in Marseille. The impetus behind such buildings was just as idealistic as any Miesian tower, but concrete architecture is unforgiving, and budgets were tight, and no one ever bothered to consult the people whose lives were ostensibly being improved.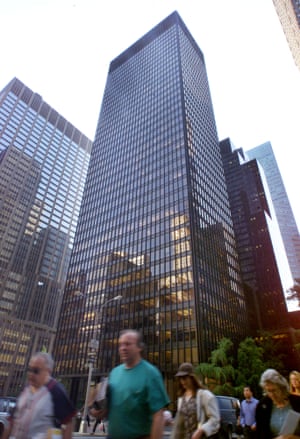 The result was that brutalism, in the public mind, became the architecture of a forgotten underclass: windswept plazas, crumbling concrete, ugly dystopian soullessness. Far from being something to aspire to, it was something to escape from. The name didn't help: even though it derives from the French béton brut, for raw concrete, it still connotes brutality. The architecture could be pretty brutal too: hulking, massive, monumental. Certainly by 1981, when Tom Wolfe published From Bauhaus to Our House, brutalism had become something to hate, a symbol of everything that was wrong with modern architecture.
The story, however, does not end there. The international style evolved, and not well. What used to be aspirational started becoming an in-your-face statement of conspicuous consumption. The gauche gaudiness of was embraced not only where you might expect it (the Wynn towers of Las Vegas, say), but also in places with real history, such as New York City. Go to Columbus Circle today, for instance, and you'll see Christian de Portzamparc's billionaire condos at One57 face off against "a 1950s international style glass skyscraper in a 1980s gold lame party dress," as Muschamp described the Trump International Hotel. Such erections generate almost as much hatred today as the worst mistakes of brutalism did in the 1960s, and understandably so: they represent a world in which the more obtrusive and ostentatious you are, the more profit you make.
The international style, deservedly or not, is bearing the brunt of the global backlash against rising inequality at all levels of society. Gentrification has become a dirty word, and nothing exemplifies gentrification more than some new steel-and-glass tower going up in the middle of a tight-knit middle-income community. The openness and transparency ostensibly espoused by the architectural vernacular fool no one: these "residences" are sealed off from their neighborhoods, shiny bubbles of wealth and privilege invariably protected from their less salubrious neighbors by multiple layers of security.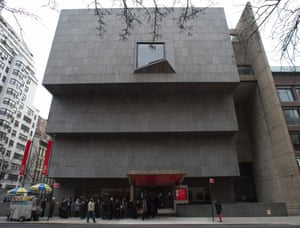 Thus was the stage set for the resurgence of brutalism. You can't put a brutalist building in a gold lame party dress: raw concrete is raw concrete. It's down-to-earth, honest, unpretentious, egalitarian, and creates buildings rooted in place: Boston City Hall, New York's Whitney Museum (now the Met Breuer), the city of Brasília.
Filed under: Architectural Practice
|
Leave a

Comment
Tags:
Architecture
,
Architecture Critic
---
---
Categories

Academia

BIM General

BIM Specific

Blogroll

Economy

Interviews

Knowledge Management

Opinión

Práctica Profesional

CAC Camara Argentina de la Construcción
INDEC Instituto Nacional de Estadisticas y Censos
Obra Pública El portal de negocios de la obra pública de la República Argentina

Profesional Practice

Software

Sustainability

Haymaker John Haymaker, PhD, AIA, LEED ap

Talks

BIMing