Learning curve: how is disruption refining the purpose of education?
11Aug17
by Jane Hill and Te Ari Prendergast
Changes in society and the job market are forcing tertiary education providers to reassess the way they provide education. Jane Hill from Chow:Hill Architects and Te Ari Prendergast from TOA Architects investigate how architects can equip today's learners for an ongoing climate of change.
A friend recently asked which tertiary organisations I might recommend for their child who was approaching the end of high school and trying to figure out 'what to do next'. Reflecting on my answer, I realised that this question is now more challenging for today's learners than ever before…
A New Learning Landscape
Tertiary education as the gateway to a career is set for disruption. Exponential growth in disruptive technologies is creating an environment of constant change, driving major upheaval in the professions and uncertainty for learning organisations and challenging the very purpose of education and the value of a degree. These disruptive forces are redefining the landscape of education and will have an impact on your child's future pathways.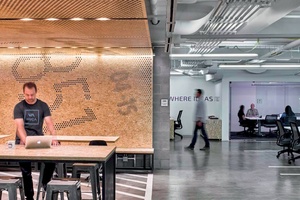 These changes are being driven by a new generation, immersed in diverse technologies and looking for new ways of working and connecting. The millennial workforce exists in an environment where old jobs are being replaced by technology and new fields of industry are emerging, creating an atmosphere of constant change.
This emerging workforce opt for flexibility in how and where they work and search for fulfilling careers consistent with their core values. Being globally connected, they want their work to have a positive impact on the world. At the same time, advances in health point to an increasingly active ageing population, driving demand for workforce retraining as old industries are disrupted.
Global competition for graduates is increasing in ferocity, and new providers are emerging at a significant rate in China and India, competing beyond bricks and mortar in the growing realm of digital education. The 'uberfication' of the world, where business models demonstrate a radical shift in focus from hard to soft capital investment, signals dramatic change in the way we think about obtaining qualifications.
Filed under: Education
|
Leave a

Comment
Tags:
Academia
,
education
---
---
Categories

Academia

BIM General

BIM Specific

Blogroll

Economy

Interviews

Knowledge Management

Opinión

Práctica Profesional

CAC Camara Argentina de la Construcción
INDEC Instituto Nacional de Estadisticas y Censos
Obra Pública El portal de negocios de la obra pública de la República Argentina

Profesional Practice

Software

Sustainability

Haymaker John Haymaker, PhD, AIA, LEED ap

Talks

BIMing