A Soluis Group-led consortium has secured £1m of funding from Innovate UK to develop an augmented worker system (AWE) for construction.
The goal is to develop a system that use high-tech goggles, in tandem with building information modelling (BIM), to reduce costs and waste by 25% and increase productivity by 30%.
App developer Soluis will work with supporters including Aecom, Doosan Babcock, Laing O'Rourke, Autodesk and Microsoft, as well as the Advanced Manufacturing Research Centre (AMRC) and the Advanced Forming Research Centre (AFRC).
Soluis has previously developed an augmented reality asset management tool, In-Site, that was piloted at Crossrail's Liverpool Street station with Laing O'Rourke.
Martin McDonnell, chairman of Soluis Group said: "The proof of concept project with Crossrail showed how this technology could be applied and add incredible value to the industry. Our vision was to develop this concept much further and create a set of tools that would form the augmented worker of the future. For a business like us, we could only drive this innovation a certain amount and working with the consortium and receiving funding from Innovate UK will help us achieve this much faster and more effectively."
Aecom BIM director David Philp said "Construction technology is reshaping how we deliver and maintain our built assets, it is increasingly helping us place digital information into the real world in the right context supporting and augmenting the decision-making process. Real time access to individualised data, analytics and instructions during the construction and operational stages will greatly improve productivity, quality and also help worker well-being.  Creating a framework and guidance around the augmented worker is critically important if we are to successfully unlock this value proposition."
Filed under: Architectural Practice, Building Information Modeling, Knowledge
|
Leave a

Comment
Tags:
Building Information Modeling
,
Computing
,
Construction
,
Innovation
,
Technology
Euclideon's hologram table: early installations are likely to be used primarily at a municipal level for town planning and area response purposes (Credit: Euclideon)
Australian company Euclideon has built a working prototype of what it calls the world's first true multi-user hologram table. Up to four people can walk around a holographic image and interact with it wearing only a small set of glasses – a far cry from bulky AR headgear. It's set to go on sale in 2018.
The idea of the hologram table has been a staple of sci-fi for decades. Indeed, hologram tables themselves have popped up here and there, but never really caught on. That's mainly because in the past, they just haven't worked like people hoped.
The problem is this: a hologram is a computer-generated stereo image, much like the kind of image you see when you watch a 3-D movie. But if you've got a group of people standing around a table, looking at the same image, they'll all see the same perspective on it, and the image won't change as they move around. It breaks the illusion.
The same is true of Tupac-style glass projection "holograms," spinning fan style "holograms" and mist projection systems – when you walk around them, or have multiple people looking at them, they break, so they've never taken off as a boardroom presentation device or gaming platform.
But it seems we're about to see a new perspective on holograms – eight perspectives, really – from an Australian company that believes it's cracked the code and designed the world's first true multi-user hologram table that's ready for prime time.
Euclideon, based just outside Brisbane, Australia, is better known for its Unlimited Detail (UD) 3D graphics processing engine, which caused quite a kerfuffle in the gaming community when it was first showcased in 2011. The UD engine could render absolutely gigantic virtual spaces in minute detail, allowing a viewer to move through a colossal 3D environment using low-end computers and no special graphics cards. It wasn't so hot when it came to physics, procedural lighting or objects that changed when they moved, so UD never took off as a large scale gaming engine.
Filed under: Architectural Practice, Education, Knowledge
|
Leave a

Comment
Tags:
business
,
Computing
,
Design
,
Innovation
,
science
,
Technology
by Built Tech.  An interview with Brian Skripac
For Brian Skripac, the key to implementing new technology is to try not go get bogged down in the technology. Counterintuitive, right? But for him, tech is less about the "what," and more about the, "how." He asks, "How do we plan our work and work the plan?" In other words, it doesn't matter so much what a tool can do unless you know how to use it. And knowing how to use it requires a thoughtful approach to teams and processes. It's about being focused on operational excellence.
Brian is currently a Vice President and the Director of Virtual Design and Construction at CannonDesign, where he continually drives innovation by merging technology and practice. He has 21 years of industry experience, with the last 11 focusing on the integration of BIM to transform the design and project delivery process. Brian has successfully developed and managed BIM-enabled delivery systems for large efforts in Design-Led Construction. In addition, he focuses on the use of BIM to capture and structure relevant facility data, implementing the value BIM brings to facility owners from an interoperable lifecycle management strategy. A thought-leader in this field, he is an advisory group member and past-chair of the AIA National Technology in Architectural Practice Knowledge Community and serves on the BIMForum committee responsible for authoring the LOD Specification.
How long have you part part of this industry?
I've been part of AEC industry since 1996, and then I really started with a BIM focus back in 2005. I was working as a post-graduate architect looking to get into a project architect role, and I was teaching a college-level 3D modeling class in the evening and on the weekends. Someone mentioned an opportunity to work with an Autodesk reseller consulting firm, and it was there that I came across Revit for the first time. I thought to myself, "This is a game changer." In that moment I saw that it wasn't just about using a new software. It's about driving a whole new process about how we practice architecture.
Filed under: Architectural Practice, Building Information Modeling, Education, Knowledge
|
Leave a

Comment
Tags:
Building Information Modeling
,
Design
,
Innovation
,
Technology
Manufacturing jobs today include machinist, welder and assembler. In the future, the list might add cybersecurity strategist, digital twin architect and collaborative robotics specialist.
That's according to a new report released by the Digital Manufacturing & Design Innovation Institute, a research consortium in Chicago that includes universities and companies, and Milwaukee-based staffing agency Manpower Group. The report identifies 165 jobs in advanced manufacturing that could exist in the future and lays out the skills those workers will need.
The report, which took more than a year to produce, is meant to help both employers and workers identify necessary future skills, said Caralynn Nowinski Collens, chief executive at UI Labs, home to the digital manufacturing institute, whose members include Boeing, Caterpillar and Illinois Tool Works. "If we can't describe what skills those workers need, then we don't know how to prepare them," she said.
Here's what the report says about four of those potential future jobs:
Chief digital officer. Leads a company's digital manufacturing strategy, developed from market, operational and customer data. Responsible for revenue from digitally enabled products and services, and for finding operational savings. Requires at least 12 years of experience, five in a senior marketing or tech role, and an MBA is preferred.
Digital twin architect. Develops a digital representation, or "twin," of a manufacturing product, process or system. Requires a master's or doctorate in software, engineering or math and more than 15 years' experience in software engineering.
Collaborative robotics specialist. Designs and implements new automation systems, trains other workers to use them and fixes them when they break. The new systems might improve safety, increase production, enhance precision or automate repetitive tasks that nevertheless continue to require workers nearby. Requires an associate or bachelor's degree in automation or engineering and at least five years' experience in production or maintenance.
Predictive maintenance system specialist. Uses data collected from machinery to predict when it will need maintenance, reducing unscheduled production stops due to broken machinery. Requires a bachelor's in mechanical or electrical engineering and mastery of analytics tools. As Nowinski said, "It sounds fancy, but really it's a person who can use sensors on a machine."
The report can be found at UI Labs' website.
Filed under: Architectural Practice, Building Information Modeling, Education, Knowledge
|
Leave a

Comment
Tags:
Architectural Practice & Management
,
business
,
Computing
,
Design
,
Innovation
,
Technology
In an interview, Oliver Buerkler, Senior Product Manager at Faro and laser scanning expert, looks at the value proposition of laser scanning
As an opening statement, Buerkler suggests "we should not restrict ourselves to looking at laser scanning itself, but rather the complete workflow that the data enables. We are better placed to support clients with the full process in mind".
Procuring a survey
When specifying the delivery of point could data, several factors should be considered. Firstly the project requirements, then technical aspects and finally the deliverables. In the UK (and applicable elsewhere), the RICS guidance document 'Measured Surveys of Land, Buildings and Utilities, 3rd edition' is a sensible place to begin.
How a surveyor chooses to capture the data is then up to them – whether by static survey stations, drone, linear vehicles, manned flight or handheld devices – certain methods are suited to different situations and physical environments.
With the specification now written 'who' is likely to benefit from laser scanning?
The surveyor
An immediate benefit is time-saving – hardware and software developments in recent years have significantly reduced the time taken to undertake scans. The scale of coverage now possible also far exceeds that of traditional methods. In this sense, many surveyors already scanning will have seen great time savings, reduced health and safety risk (late working and overall reduced time on site) and fewer return site visits.
Moving to deliverables, Buerkler states that "the time taken on average to create deliverables from scan data is around ten times that of collecting the data in the first instance". That said, tools such as the Faro PointSense Family of applications and object recognition algorithms allow the extraction and conversion of point cloud data to final deliverables to be a much quicker process than ever before.
Software can also show where the models are out of tolerance with the specification, highlighting one of the most important aspects of the conversion to 'other' deliverables – the scan data will ALWAYS be more accurate and complete than an approximated model.
In summary, the benefits gained here are calculable against traditional methods, although this is just the beginning of a stream of benefits for others.
Filed under: Architectural Practice, Building Information Modeling
|
Leave a

Comment
Tags:
Building Information Modeling
,
Computing
,
Design
,
Innovation
,
Technology
by Jane Hill and Te Ari Prendergast
Changes in society and the job market are forcing tertiary education providers to reassess the way they provide education. Jane Hill from Chow:Hill Architects and Te Ari Prendergast from TOA Architects investigate how architects can equip today's learners for an ongoing climate of change.
A friend recently asked which tertiary organisations I might recommend for their child who was approaching the end of high school and trying to figure out 'what to do next'. Reflecting on my answer, I realised that this question is now more challenging for today's learners than ever before…
A New Learning Landscape
Tertiary education as the gateway to a career is set for disruption. Exponential growth in disruptive technologies is creating an environment of constant change, driving major upheaval in the professions and uncertainty for learning organisations and challenging the very purpose of education and the value of a degree. These disruptive forces are redefining the landscape of education and will have an impact on your child's future pathways.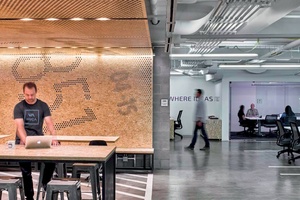 These changes are being driven by a new generation, immersed in diverse technologies and looking for new ways of working and connecting. The millennial workforce exists in an environment where old jobs are being replaced by technology and new fields of industry are emerging, creating an atmosphere of constant change.
This emerging workforce opt for flexibility in how and where they work and search for fulfilling careers consistent with their core values. Being globally connected, they want their work to have a positive impact on the world. At the same time, advances in health point to an increasingly active ageing population, driving demand for workforce retraining as old industries are disrupted.
Global competition for graduates is increasing in ferocity, and new providers are emerging at a significant rate in China and India, competing beyond bricks and mortar in the growing realm of digital education. The 'uberfication' of the world, where business models demonstrate a radical shift in focus from hard to soft capital investment, signals dramatic change in the way we think about obtaining qualifications.
Filed under: Education
|
Leave a

Comment
Tags:
Academia
,
education
by Physics for architects
WHY DO ARCHITECTS NEED PHYSICS?
Students of most undergraduate architecture programs in the United States are required to take an introductory physics course. There are three good reasons for that requirement. First, architects have to understand the fundamentals of physics as they apply to processes taking place in buildings and in structures. Second, as part of general education, physics broadens our understanding of the physical world around us. Third, since physics is an exact science that relies on mathematics, solving physics problems enhances the analytical and scientific thinking skills of the student. "Physics for Architects" was written specifically for architecture students, aiming to satisfy those three basic requirements.
ARCHITECTURE PROGRAMS AND PHYSICS
The specific details of an introductory physics course may vary from one architecture program to another. Different programs may have different overall concentrations, which may affect the relative weight of their physics component. Within any given architecture program, physics topics may be distributed between introductory physics and other professional courses. Also, different programs may put different emphasis on the mathematical aspects of physics, sometimes referred to as the "difficulty level of the physics course". What is common to all architecture programs is that the total time allotted to introductory physics is between one and two semesters. "Physics for Architects" has been designed so that it could be used in a wide variety of undergraduate architecture programs, according to their specific needs.
SELECTION OF TOPICS
Time is of the essence when compiling any curriculum and a textbook to support it. Class time as well as the time available for students' homework is limited. On the other hand, physics is practically unlimited. Therefore, the topics that should be included in the physics curriculum and the depth of each topic have to be selected very judiciously. Topics have to be prioritized, and eventually some topics will have to be dropped out altogether. In "Physics-for-Architects", the fundamental principles of physics and topics that have direct bearing on architecture receive the highest priority. Other topics are secondary. For example, Newton's Laws are fundamental, and they are discussed in detail both theoretically and in numerous applications. On the other hand, some topics of modern physics had to be considered secondary, and they are interwoven at a qualitative level within other chapters. Some general concepts, such as series and parallel connections, apply to several topics. Since architects encounter them mainly in situations of heat flow, they are introduced here in that context. Most physics textbooks introduce those concepts in relation to electrical circuits of resistors and capacitors. The latter has no relevance to architects, and is not presented here.
LEVEL OF MATHEMATICS
The math pre-requisites to all the topics in the book are high-school-level algebra and trigonometry. An intensive review, only of the mathematical concepts and techniques that are needed for the course, is provided as an introductory chapter. Detailed solved examples are embedded in the text, and problems of various levels of mathematical difficulty are provided at the end of each chapter. That should allow teachers to tailor the math level of each topic to the specific needs of their program and their students. Teachers may opt to teach some topics at the highest level of mathematics, while other topics could be addressed with lesser mathematical rigor, or even only qualitatively.
Filed under: Architectural Practice, Education
|
Leave a

Comment
Tags:
Architectural Practice & Management
,
Knowledge Management
,
Technology
by PBC Today
BIM is growing, there are millions of models in circulation already and more being authored every day, on a global basis. However, there is some debate whether all, or even the majority of these, are actually Building Information Models or just models. That discussion we can leave for another time as the focus of this piece is to address the evolution of the BIM Use Case.
This is not really new, as there have been some extremely knowledgeable people and forward thinking companies over the years who identified that BIM could be used for many different purposes and to accomplish this, there had to be some consensus on what information needed to accompany the model components.  There are some great examples of these use cases, such as Energy Analysis, Acoustic Analysis, Facilities Management, Level of Development, QA/QC, National BIM Standards, Code Compliance and many more. This has also resulted in some excellent initiatives to define and deliver a common data structure to address the needs of the different project owners.
Solibri Model Checker is indeed different as it truly is a solution for multiple BIM Use Cases, by design and not by "stretching" the technology to "kind of" address a need, but by actually being an excellent solution for very real use cases and flexible enough to adapt as requirements increase.
The one thing that is very clear – now that there is more data present in models, there is a very real requirement that is often ignored, to both manage that data, but also to verify and validate it, as well.
What good is data if you don't know it's accuracy, completeness, or compliance with an established requirement?
Bad data actually causes more harm than good, as decisions that are made from unchecked or unverified data will result in inaccuracies elsewhere, as the project progresses (estimating, procurement, delays, field changes, etc.). This of course adds time and cost and introduces more risk.
Each BIM Use Case presents a range of very different requirements. However, a common need is that they all need to verify and validate the data, for that particular requirement. The table below demonstrates just a few of the use cases that have been identified, so far. This is not an all-inclusive listing, nor does it mean that models are already being used for all of these, everywhere. But the potential is there already for this to happen.
Filed under: Architectural Practice, Building Information Modeling
|
Leave a

Comment
Tags:
Building Information Modeling
,
Innovation
,
Technology
Twentieth-century architecture has been dominated by the use of new technologies, building techniques and construction materials. What comes next?
Pencil and paper have long been replaced by technology. First came one of the great inventions of the 1980s, AutoCAD, which transformed the design industry. This software opened great possibilities for design creation and interpretation – it also set the standard for what to expect from architects and designers as professionals.
Computer Aided Design & Drafting (CADD) was a generational shift as far as engineering documentation is concerned which immensely improved the overall quality of drawings that were made available to the site staff for eventual construction.
But CADD, with all its proven advantages, still has many limitations including its inability to go beyond the geometry or support collaboration that was missing. As the demands of the industry grew, designs became more intricate. Rapid developments in construction technologies also resulted in a huge performance gap, a vast disconnect between expectations and capabilities or between demands and deliverables.
Design professionals found it increasingly difficult to keep pace with the expectations, not just in terms of speed but quality and efficiency of the services as well. With original project costs becoming less realistic, the whole exercise of building hence became eternally unpredictable.
Then, a wonder-tool was discovered in the 1990s – Building Information Modelling (BIM). BIM is the process of creating and managing a dynamic, three-dimensional, computer-generated model for the design, construction and operation of a building or project. When BIM first emerged, there was a collective thought that the technology would revolutionise the industry.
BIM is an advanced version of Auto CADD, in which a building is designed, visualised and tested in a multi-dimensional and multi-disciplinary environment and where the 2-dimensional documentation – drawings & Bill of Quantities (BOQs) – is just a byproduct.
BIM technology understands the geometry of a design – as is in the case of traditional CADD – but also comprehends a real building with its numerous and distinct components. BIM is far more realistic and utilitarian platform for the construction community.
With information and intelligence nested in each of the objects, the software enables them to be grouped, addressed, attributed, scheduled and quantified. This seemingly simple three-dimensional model has turned out to be a data-rich, inherently smart, functional representation of the building.
The initial efforts were focused on enhancing the efficiency of design and quality of documentation, but in order to reap their real benefits, BIM technologies developed capabilities to improve design deliverables onto construction practices we well.
Filed under: Architectural Practice, Building Information Modeling
|
Leave a

Comment
Tags:
Building Information Modeling
,
Computing
,
Design
,
Innovation
,
Technology
The construction industry may be slow to change, but technology's influence on and off the job site is unmistakable.
One company fueling that trend is Berkeley, CA–based 3D Robotics (3DR), a commercial drone software developer focusing on single-layer data collection and analysis. Founded in 2009 by former Wired Editor-in-Chief Chris Anderson, the company wants to increase drone use in AEC.
On Tuesday, the company announced a move to partner with former a competitor, the global drone-maker DJI. DJI drones can now use 3DR's Site Scan technology, which allows autonomous flight modes, multi-engine cloud processing, topographic surveys and volumetric measurements. Coming roughly two months after the company secured $53 million in Series D funding from investors including Atlantic Bridge and Autodesk, the move fulfills the company's promise to invest that capital into expanding Site Scan.
Construction Dive spoke with Anderson about 3DR's latest move, how aerial scanning is improving job site processes and what that means for construction companies looking to gain an edge.
Filed under: Architectural Practice, Building Information Modeling, Project Management
|
Leave a

Comment
Tags:
Building Information Modeling
,
business
,
Computing
,
Construction
,
Innovation
,
Technology